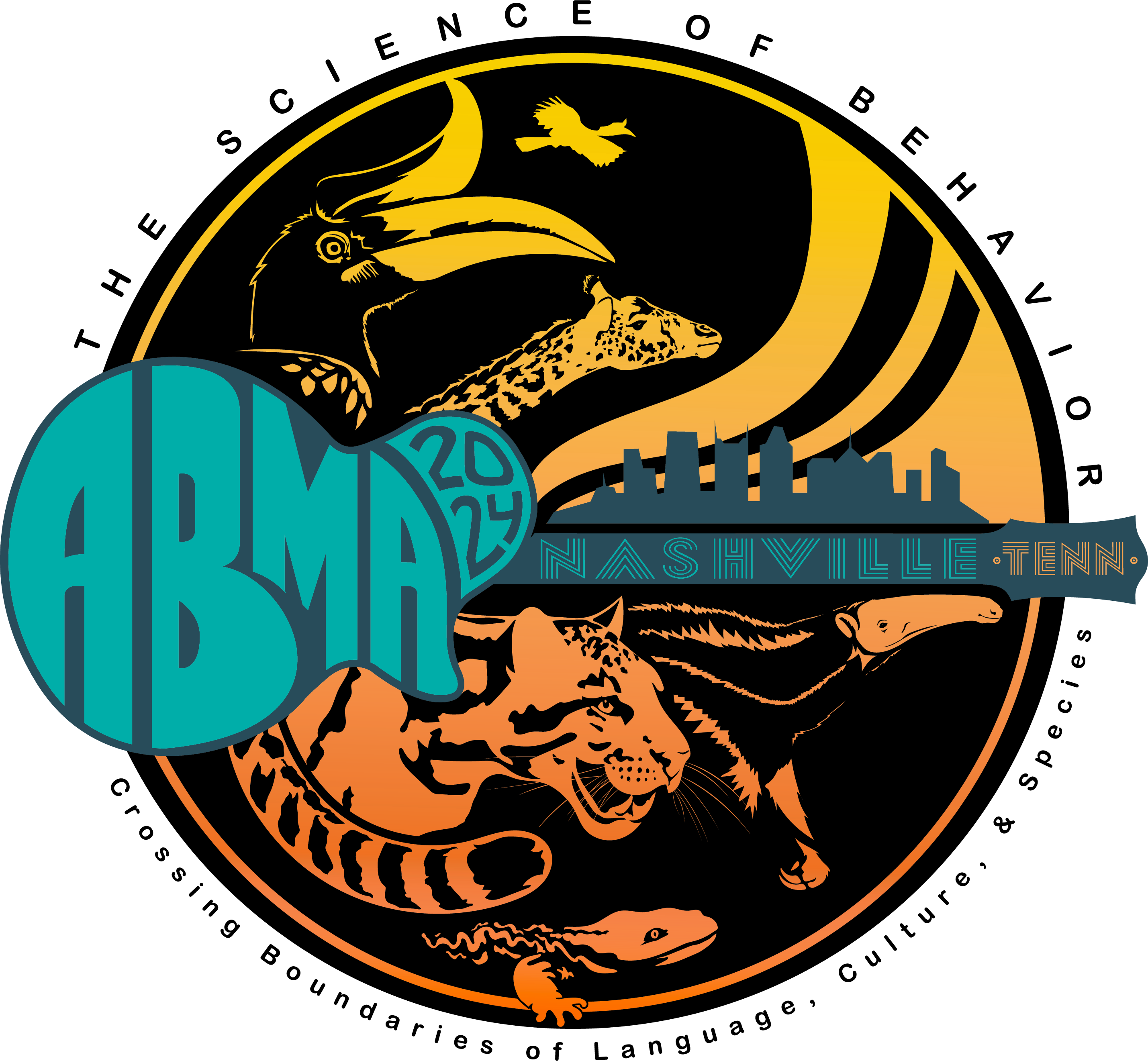 The ABMA invites you to join us in Nashville, TN in 2024!  The conference theme is The Science of Behavior:  Crossing Boundaries of Language, Culture, and Species.
Dates: 14-19 April 2024
Location: Gaylord Opryland Hotel is the conference hotel.  

Rate: $269/night + tax + resort fee

We are pleased to announce our Keynote Speaker is Dr. Lance Miller!

Make plans to attend the pre-conference workshop- PORTL by Mary Hunter from the University of North Texas!  




REGISTER HERE 
*to receive the member rate you must login





Pre-Conference Workshop- PORTL presented by Mary Hunter, University of North Texas
In-person PORTL workshops allow you to practice your teaching skills with another human as the learner. Workshops consist of lectures, PORTL exercises, and discussion.  You'll learn about behavior principles and techniques that will help you create optimal learning situations when working with both people and animals.  

PORTL is a tabletop game that provides an interactive environment for learning about behavior principles and investigating behavioral phenomena.  It is played using a collection of small objects, a clicker to select behavior, and small blocks as reinforcers.  

PORTL had its beginnings in another game, called GENABACAB, which was developed by English dog trainer Kay Laurence. About a decade ago, Laurence taught this game to Dr. Jesús Rosales-Ruiz and his graduate students.  The students started playing the game with each other and were hooked. They also began modifying the game to create an apparatus that could be used for teaching and research.  

Students need minimal instructions initially to start playing PORTL. However, as they gain more experience with the game, they can use it to ask and answer complex questions about behavior.  This gives them a sense of discovery and gets them excited to learn more about how behavior works.  The PORTL workshop will be Sunday, 14 April for just $100.
ABMA Merchandise Available!


Upload your conference photos here!  **By uploading your photo(s) you agree to the ABMA digital media general disclaimer:  The undersigned (the "Photographer") hereby irrevocably grants to the Animal Behavior Management Alliance (the "ABMA") full and complete permission to use the submitted digital media in any ABMA publication, including, but not limited to, use in Behavior Month, Engage, illustrations, internet content, and other outlets of publication and marketing.  With the exception of the foregoing, the ABMA makes no claims to ownership of the submitted digital media and ownership rights are retained by the Photographer.  
Details will be posted as they are finalized. If you have questions, don't hesitate to contact us. We look forward to seeing you in person in Nashville!