The ABMA has annual elections for various board positions.  Our nomination process starts in the fall and voting occurs in the spring.  If you have any questions about our election process, please contact the Nominations and Elections chair, Justin Garner.
Here are the nominees for the 2021-2024 cycle.  Each candidate's information is posted for you to review before you cast your vote.  Elections will in the spring.  If you are a professional, lifetime professional, active, or emeritus member you will receive an email with a link to vote.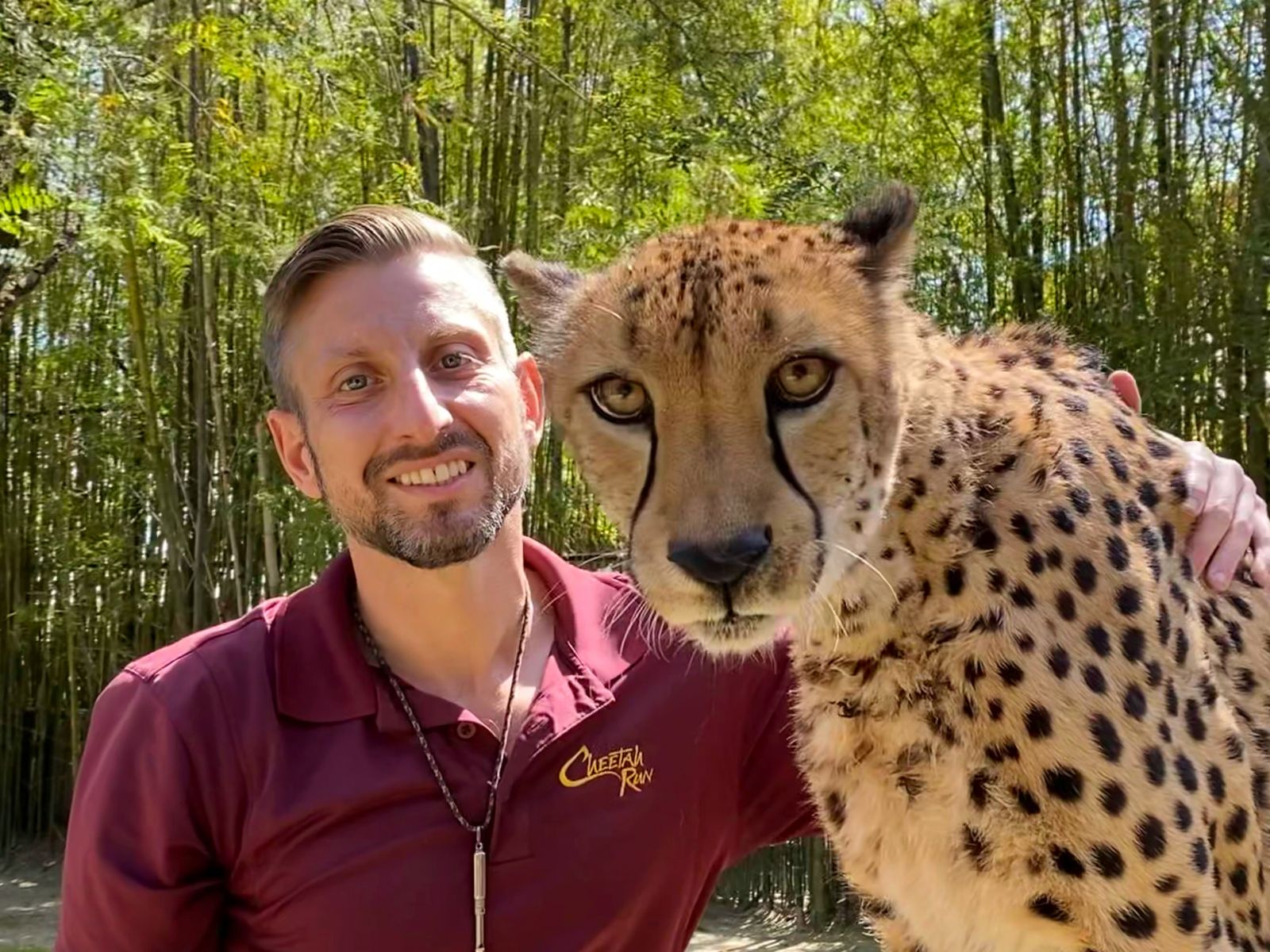 Justin Garner- I have had the privilege of serving on ABMA's Board of Directors since 2015.  I began as a Director, then President (2019-2020), and I'm currently serving as Past President.  In addition to my ABMA Board of Directors positions, I have also served as the Government Affairs Committee Chair & Co-chair and currently co-manage ABMA's social media.  
I began my animal training career in 2002 and have since worked at several different zoos and aquariums. I have been fortunate to have had the opportunity to gain experience working with a wide variety of taxa ranging from marine mammals to birds to carnivores. My true passion is to improve the lives of all animals through science based positive reinforcement driven behavior management. I'm currently a Supervisor of Zoological Operations at Busch Gardens Tampa Bay and am responsible for the cheetah ambassador & behavior programs. 
ABMA has not only provided me with the opportunity to share knowledge but, to learn from many other professionals that I have been able to connect with. I'm extremely proud of how much ABMA has grown and progressed over the years. I look forward to continuing to serve ABMA and its members by helping to grow the organization's presence and benefits to members, as well as guide ABMA's voice as a global leader in animal welfare.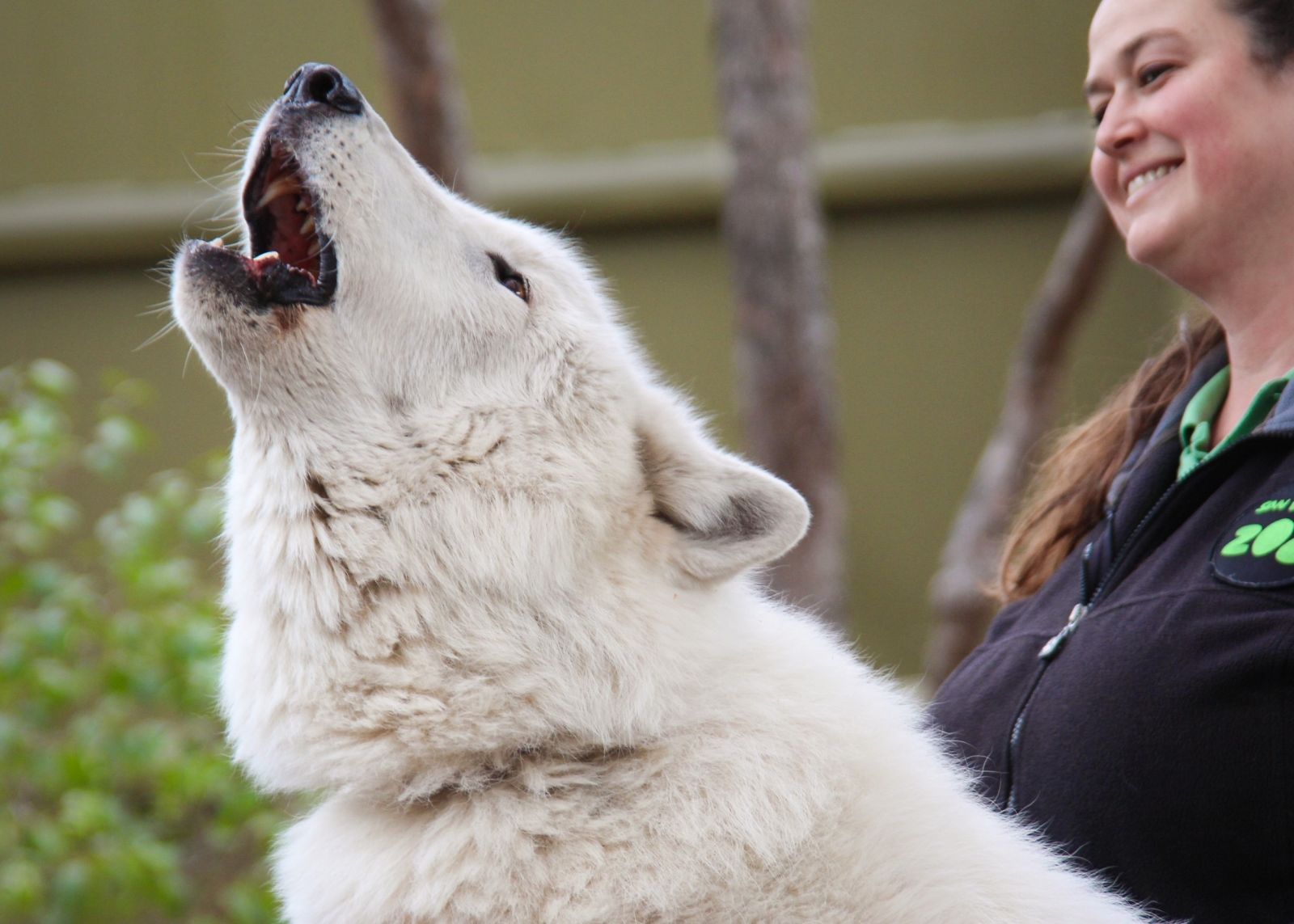 Kelly Elkins- Kelly Elkins has been proud to be a part of the Animal Behavior Management Alliance board for the last 10 years.  She has held several positions on the board and program council, including 10 years as the Chair for Site Selection, which coordinates what facility will host future conferences and all hotel negotiations.  She has had two terms as Vice President, for both the 2017 Cincinnati conference and the 2019 Portland conference, in which she helped with the organization of the conferences.  Kelly is currently serving as President, a role which she is thrilled and humbled to have in a year that has brought many challenges.  This organization continues to inspire her, and she is excited for the opportunity to fill the role of President once more. Her goals for the next term are growing the organizations' membership, increasing member benefits, expanding ABMA's diversity and finding new ways to connect to our members during these times when connections are crucial.  Kelly currently works as a Wildlife Care Lead at the San Diego Zoo, which she has proudly called home for 16 years.
Thank you for your consideration.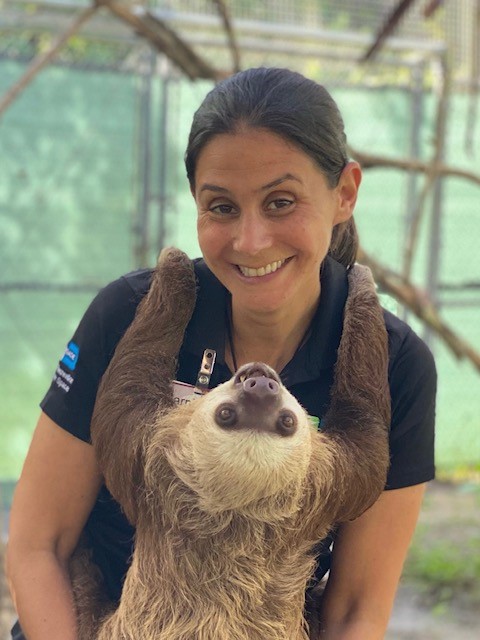 Marni Wood- Marni joined the Zoo Miami family in 2018 as their Animal Care Manager of Ambassador
Programs. She started her career at the Beardsley Zoo in Bridgeport, CT as an education intern
and worked her way up to Manager of Animal Training at Miami Seaquarium where she worked
with a variety of marine mammals for 15 years. Marni has extensive experience with operant
conditioning utilizing positive reinforcement to train and maintain a wide array of behaviors
including a voluntary gastric tube with an 8,500 pound killer whale, free-flight behavior with
macaws, pregnancy confirmation x-ray with meerkats, a voluntary restraint with a bottlenose
dolphin, a voluntary hand injection with a serval, and just recently conditioned a wild-caught,
non-releasable juvenile nutria to station, crate, recall and participate in interactions all in a matter of a few months.
Currently Marni oversees Zoo Miami's entire ambassador collection, which encompasses the Critter Connection and Amphitheater areas housing a total of close to 100 animals. She is responsible for coordinating and participating in all outreach programs both on and off grounds as well as creating and implementing all policies and procedures for the ambassador program.
Marni created and actively participates in the Amphitheater's daily wildlife training
presentation, and is in the process of creating a new exciting and educational presentation for guests to enjoy in the future. In the next year the area will be acquiring a variety of new animals to participate in this new and exciting show, which of course will involve lots of training; Marni cannot wait!
From Marni's expansive knowledge of animal training, to her many years of animal interaction, and genuine desire to learn from and aid the zoological community, she serves as an ideal candidate to contribute to the Animal Behavior Management Alliance. By becoming a member of the Board of Directors, Marni continues her goal to improve the welfare of ambassador animals, as well as all animals in the zoological field, by continuing to incorporate positive reinforcement training into the mainstream mindset.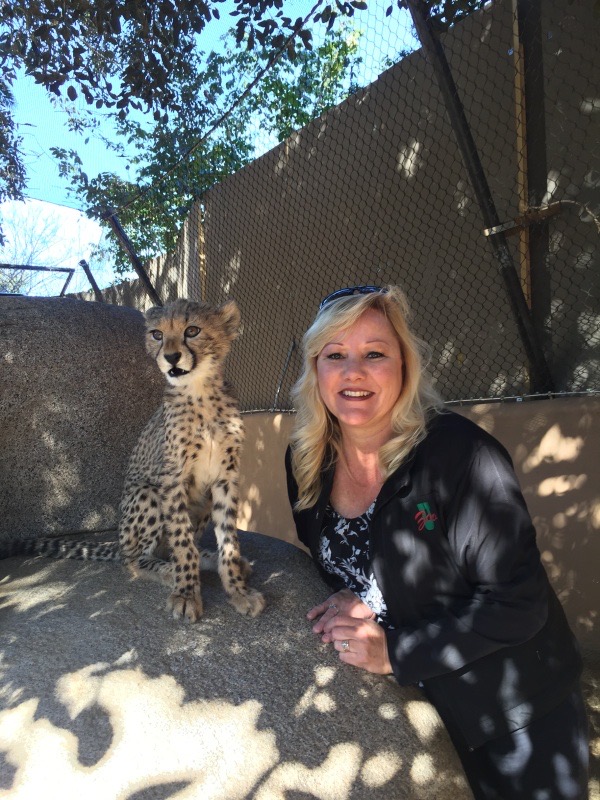 Nicki Boyd- I am interested in continuing my role as Chief Information Officer for one more term to help continue and complete some of the great initiatives being done with ABMA. 
I am currently the Associate Curator of Behavioral Husbandry and Animal Ambassador at the San Diego Zoo, responsible for managing zoo-wide animal training programs and all four areas of Wildlife Connections. 
Professional affiliations include the Association of Zoos and Aquariums in which she serves on the Behavior Scientific Advisory Group and Animal Ambassador Scientific Advisory group, the Animal Behavior Management Alliance as CIO, the International Avian Trainers Certification Board and the Red Panda Network, in which Boyd currently serves as Education Chair.
My future goals for ABMA would be to continue moving the training video library (in joint effort with the American Association of Zoo Keepers) forward to be on both the websites.  This will be a great resource for wildlife care specialists to help with training knowledge and application. 
Thank you for your consideration.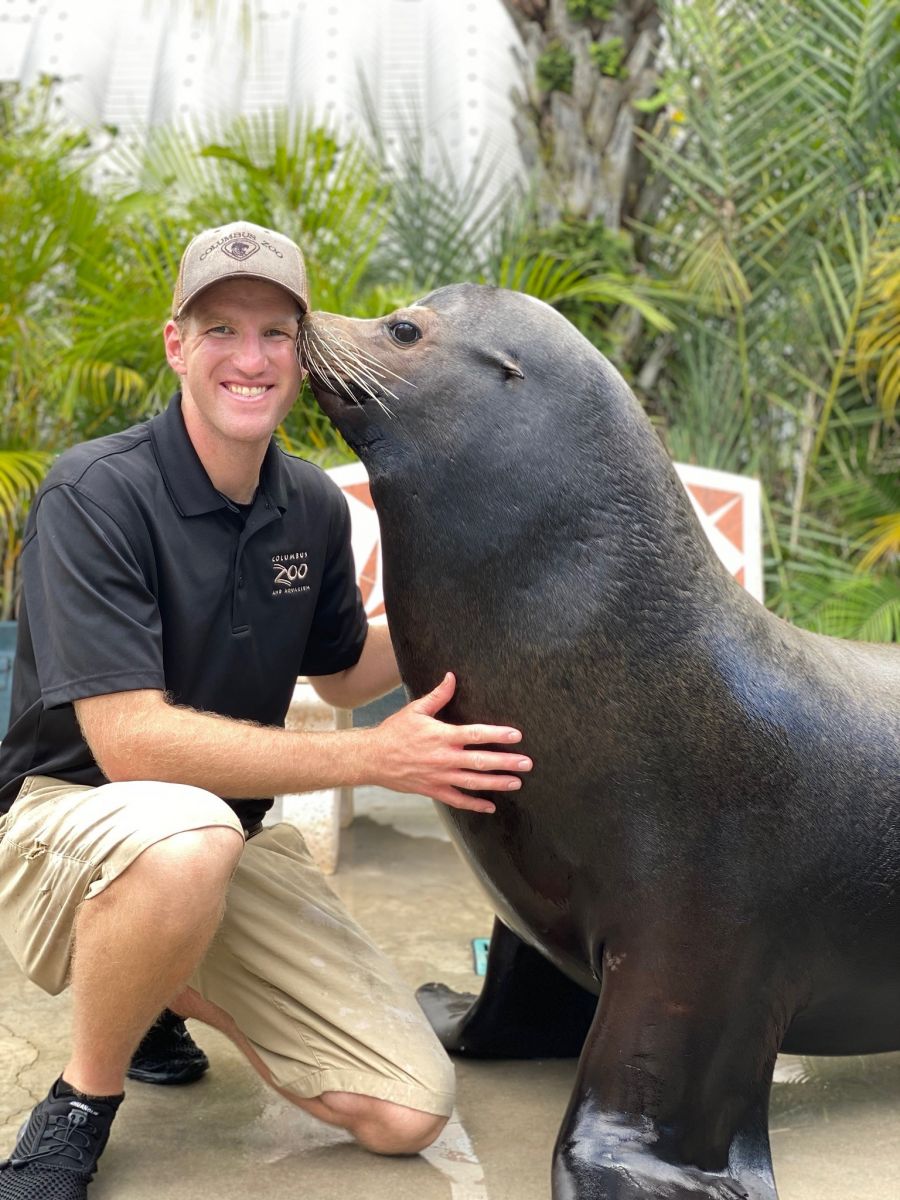 Shane Gorbett-  I have been extremely fortunate to have learned from numerous incredible trainers who have taught me to have a trainer's mindset and challenged me to continuously think about how we can utilize training to give animals the best life possible. One of my goals in my personal career is to be a leader who encourages those same ideas and passion in others. I would like to serve on the Board of Directors to continue to help the ABMA to be a resource for everyone in the training and animal care community. Continuing to promote growth for more experienced trainers while also providing the stepping stones for newer trainers. Today's world has rapidly modernized and there are so many options to reach new audiences and engage professionals. I think it would be incredible if the ABMA could branch out more into social media, podcasts, youtube, etc. to engage professionals around the world and maybe provide the spark that will ignite the trainer's mindset in others. 
I started my career in 2014 at the Animal Encounters Village at the Columbus Zoo and Aquarium caring for and training a wide range of ambassador animals and presenting educational shows to zoo guests. It was here that I discovered my passion for training and my love for working with animals to inspire guests to make changes in their daily lives to help preserve the natural world. In 2018 I joined the Cheetah Run team at Busch Gardens Tampa Bay where I was empowered to grow as a trainer and a leader. Currently I work on the Pinniped team at the Columbus Zoo and Aquarium. Training sea lions and seals has been a very fun and rewarding challenge and I look forward to learning more and more from the animals every day.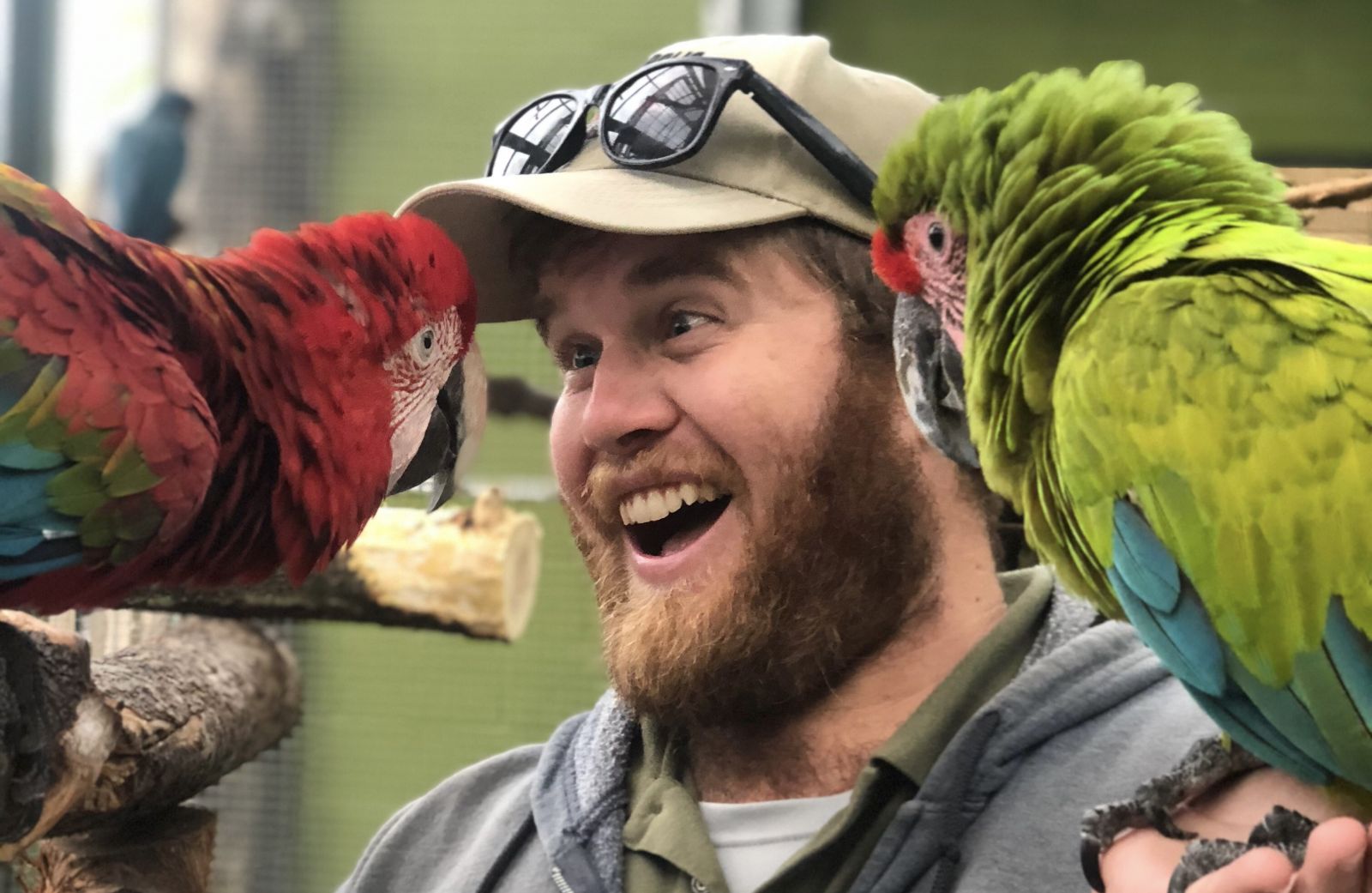 Tim Van Loan- Tim started working with animals as a Junior Docent at the Arizona Sonora Desert Museum in middle school, and immediately knew he wanted to spend his career sharing close relationships with animals. After graduating with a B.S. in Biology from the University of Puget Sound, he moved cross country to work at Walt Disney World as a marine mammal intern, and then later a behavioral husbandry assistant at Disney's Animal Kingdom. Throughout his career he has been lucky enough to work around the country as a bird trainer, show leader, and behavioral husbandry manager through opportunities provided by Natural Encounters Inc. As of last year, he accepted a full time position with the New Mexico BioPark Society fulfilling the role he was already serving in as a consultant, as the Behavioral Husbandry Manager of the ABQ BioPark. The BioPark consists of a zoo, bugarium, botanic garden, heritage farm, aquarium, and natural forested lands along the banks of the Rio Grande, so it has truly made dreams of improving the lives of all types of animals come true.
Tim is most proud of the work done to create and grow the Indianapolis Zoo's presentation "Magnificent Macaws," a free flight macaw experience that lets people see and hear the beauty of birds. He is a certified professional animal trainer and bird trainer (KA-CPAT & KA-CPBT) through IATCB, and a member of ABMA, AZA, and PADI. He is also a graduate of Dr. Susan Friedmann's Learning and Living with Animals course, and has been a team leader for several Natural Encounter's workshops.
Besides positive reinforcement, Tim loves travel, culture, and food! In 2015 & 2016, he lived in Shanghai, China working for the Walt Disney Company as a Foreign Trainer, helping to bridge the gap between Disney's work culture and Chinese professional culture. He speaks Spanish, Setswana, and Mandarin Chinese, and hopes to continue building international bridges in the animal training community!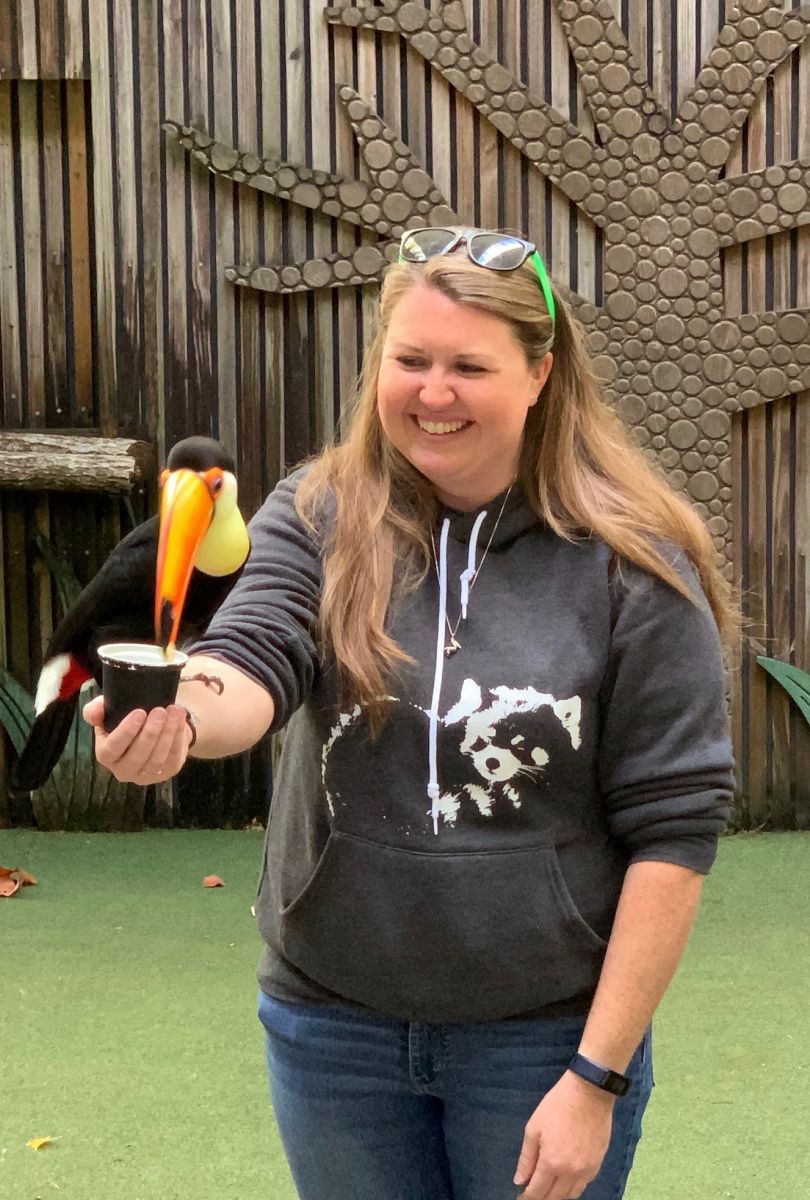 Traci James- Traci is a graduate of the Exotic Animal Training and Management program at Moorpark College. After completing internships and seasonal positions she landed an Animal Care Specialist position in the Aviculture Department at the San Antonio Zoo in 2014. Traci assisted with the 2018 ABMA conference in San Antonio, TX and has been an active member of ABMA since 2013. She is currently the Merchandise Chair and has been a Director at Large on the ABMA Board of Directors in the past. She hopes to continue growing with the organization and helping in growing its membership for years to come.